DIT Rathmines Road
Find student accommodation near DIT Rathmines Road on Daft.ie. Search student house shares, student lets and rentals near DIT Rathmines Road.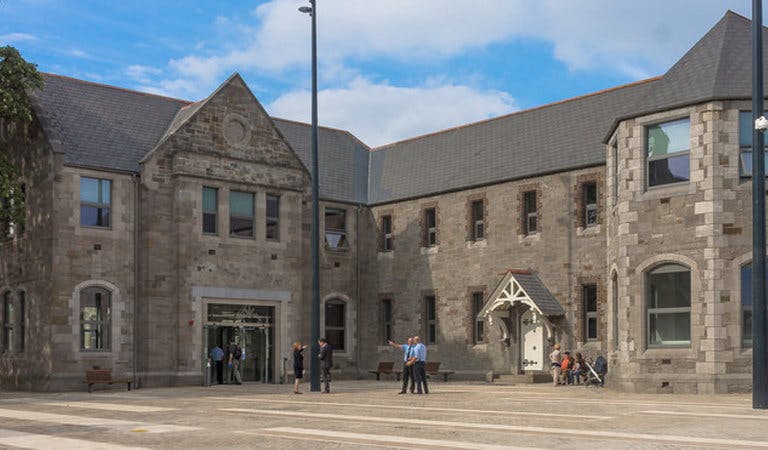 College Highlights
Campus

The Rathmines College Campus is made up of two sites; Rathmines Road (Lower) in Dublin 6 and Chatham Row in Dublin 2. These are home to the DIT Conservatory of Music & Drama. Facilities in both buildings are geared to music and drama rehearsal as well as performance for students from junior level up to postgraduate. Just south of the Grand Canal in Dublin 6, Rathmines has an easygoing pace of life and the atmosphere of a town within the city. It's also home to a very large student population being in an ideal location for students commuting to UCD, Trinity College as well as DIT.

Music Facilities

The Chatham Row building has a well-equipped recital hall with organ, classrooms, a percussion suite and a large number of teaching and practice studios. Much of the instrumental teaching takes place at Chatham Row. Unique to the Conservatory, all rooms also have a piano and are used as practice rooms when free. Facilities at the Rathmines Road building include a 60-seater performance space, a music technology lab, an organ room, several large classrooms and lecture rooms, as well as a canteen and student common room. The Conservatory's library is also located at Rathmines where much of the academic, vocal and drama teaching takes place.

Performance Areas

There are two main Performance Areas; The Theatre (Rathmines) and McCann Hall (Chatham Row). Both are used for performances, plays, recitals, classes and meetings. The theatre in Rathmines Road Lower is used throughout the year for public recitals and other performances. There is also a 400-seater concert hall, the Gleeson Theatre, in the DIT building on Kevin Street in Dublin 1.
Amenities
Sports

DIT has a great sporting tradition across a wide spectrum of sports. The Grangegorman campus is home ground to DIT's outdoor competitive team sports of camogie, Gaelic football, hurling, rugby and soccer. Indoor facilities at Kevin Street College Campus cater for martial arts, fitness and health-based pursuits. In addition to the on-campus facilities, students can also access the Larkin College sports complex which offers facilities for badminton, hockey, futsal and climbing.

Student life

DIT's city centre locations mean you're never too far from anything that grabs your interest. Dublin has a wide range of cafes, bars, pubs, restaurants, shops, museums, pop-up shops, outdoor markets, art galleries and entertainment facilities, not to mention concert venues, theatres, festivals and events. One notable benefit of attending DIT are the free eye examinations in the National Optometry Centre at DIT Kevin Street while many businesses offer student discounts on a range of products and services throughout the capital.

Students' Union

The Students' Union is run for students by students. It's the place to go if you have a query or need some extra support, as well as having lots of extra information pertaining to education and welfare.
Public Transport
Getting Around

Chatham Row is just 3 minutes' walk from St Stephen's Green and Grafton Street, in the heart of Dublin. The Rathmines Road Lower campus is 20 minutes' walk south of St Stephen's Green, or a 10-minute bus ride away. The capital's vast public transport system means that no matter where you are, you're never far away from the LUAS line, a DART station, a Dublin Bike or a bus service. You can save more on fares across LUAS, Dublin Bus and DART routes by buying a Student Leap card.

LUAS

The LUAS is Dublin's light-rail tram system. There are two lines; the Red line operates from Tallaght to Connolly station in the North city centre; the Green line operates from Sandyford to St Stephen's Green in the South City centre. Work has started on the new Cross-City LUAS line, which will stop on DIT's Grangegorman campus (Broadstone Gate) from 2017. LUAS Fares range in price depending on the distance of your journey, starting at €1.80 for a single, one-zone, adult fare.

DART

The DART (Dublin Area Rapid Transport) is a suburban railway operating along the coast from Howth in North Dublin to Greystones in Co. Wicklow, stopping at three stations in Dublin city centre - Pearse Street, Tara Street and Connolly station. DART Fares range in price depending on the distance of your journey, starting at €2.15 for a single, one-zone, adult fare.