DIT Kevin Street
Find student accommodation near DIT Kevin Street on Daft.ie. Search student house shares, student lets and rentals near DIT Kevin Street.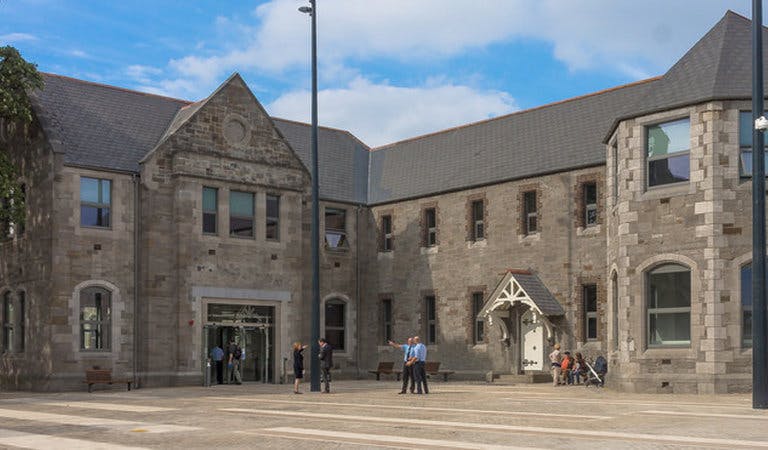 College Highlights
College Highlights

A few minutes walk from St. Stephen's Green in the heart of Dublin, DIT Kevin Street is built on the site of the original technical school established in 1887. The Kevin Street campus includes all of DIT's Faculty of Science; some of the Faculty of Engineering and the School of Languages. The college is divided into 4 sites: the Main Building, Annex, Church Lane and the Focas Research Centre.

National Optometry Centre (NOC)

The National Optometry Centre (NOC) is part of the Department of Optometry in the College of Sciences and Health at DIT Kevin Street. It's a purpose-built, state-of-the-art centre for the advanced training of optometry students and is the only such facility of its kind in Ireland. The NOC serves as a national resource for the community of eye-care professionals in Ireland as well as offering free clinics to registered students of DIT.

Swimming Pool

The Kevin St. campus also houses some of DIT's recreational facilities, including an 18 metre, three-lane swimming pool which is open to all registered DIT students. The pool is used by the sub-aqua club and the canoe club, among others and is open from 8am in term time. There's also a sports hall where basketball and badminton are played and which contains a climbing wall.
Amenities
Sports

DIT has a great sporting tradition across a wide spectrum of sports. The Grangegorman campus is home ground to DIT's outdoor competitive team sports of camogie, Gaelic football, hurling, rugby and soccer. Indoor facilities at Kevin Street College Campus cater for martial arts, fitness and health-based pursuits. In addition to the on-campus amenities, students can also access the Larkin College sports complex which offers facilities for badminton, hockey, futsal and climbing.

Student life

DIT's city centre locations mean you're never too far from anything that grabs your interest. Dublin has a wide range of cafes, bars, pubs, restaurants, shops, museums, pop-up shops, outdoor markets, art galleries and entertainment facilities, not to mention concert venues, theatres, festivals and events. One notable benefit of attending DIT are the free eye examinations in the National Optometry Centre at DIT Kevin Street while many businesses offer student discounts on a range of products and services throughout the capital.

Students' Union

The Students' Union is run for students by students. It's the place to go if you have a query or need some extra support, as well as having lots of extra information pertaining to education and welfare.
Public Transport
Getting Around

DIT Kevin Street is located in the south of Dublin city in Dublin 8. The capital's vast public transport system means that no matter where you are, you're never far away from the LUAS line, a DART station, a Dublin Bike or a bus service. If you're planning to use public transport a lot, you can save more on fares across LUAS, Dublin Bus and DART routes by buying a Student Leap card.

LUAS

The LUAS is Dublin's light-rail tram system. There are two lines; the Red line operates from Tallaght to Connolly station in the North city centre; the Green line operates from Sandyford to St Stephen's Green in the South City centre. Work has started on the new Cross-City LUAS line, which will stop on DIT's Grangegorman campus (Broadstone Gate) from 2017. LUAS Fares range in price depending on the distance of your journey, starting at €1.80 for a single, one-zone, adult fare.

DART

The DART (Dublin Area Rapid Transport) is a suburban railway operating along the coast from Howth in North Dublin to Greystones in Co. Wicklow, stopping at three stations in Dublin city centre - Pearse Street, Tara Street and Connolly station. DART Fares range in price depending on the distance of your journey, starting at €2.15 for a single, one-zone, adult fare.