NUI Galway
The university was founded in 1845 as Queen's College, Galway, and is more recently known as University College, Galway.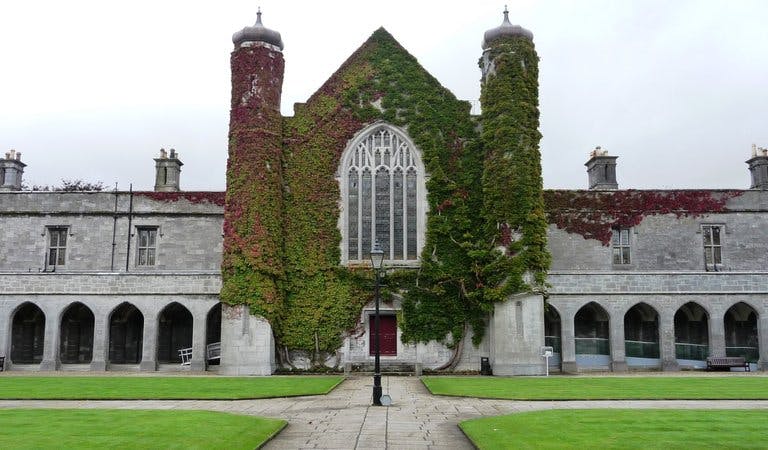 College Highlights
Historic University

The university opened for teaching in 1849 as Queen's College, Galway with 37 professors and 91 students. NUI Galway is a member of the Coimbra Group, a network of 40 long-established European universities.

Campus

NUI Galway is in the middle of a €400 million construction programme - the largest expansion of facilities in any university in Ireland. The 'Campus of the Future' project has already delivered iconic new research facilities.

The Quadrangle

A favourite with tourists and wedding photographers, the Quadrangle is the University's most iconic building. Built in 1845, for decades it was the location of all teaching and research activities. Today, it houses mostly administrative staff, as well as the President's Office and a public venue in the Aula Maxima.
Amenities
Student Life

NUI Galway has more than 110 active societies. Five constituent society types exist: Debating & Political; Artistic & Performing; Social & Gaming; Religious & Socially Conscious; Academic.

Sports

NUIG boasts a state of the art Sports Complex along with impressive external facilities for athletics and sports teams. With over 50 active sports clubs, the choice of teams to be involved with is nearly endless.

Students' Union

The Students' Union is run for students by students. It's the place to go if you have a query or need some extra support, as well as having lots of extra information pertaining to education and welfare.
Public Transport
Bus

NUIG is served by various bus routes, both private and public. Bus Eireann's service to Newcastle from Eyre Square stops on both University Road and Newcastle Road.

Train

Irish Rail serves Galway from Dublin and will drop you into Galway City Centre. You can take a bus or taxi from there to NUI Galway.

Taxis

You can generally hail a Taxi in Galway City Centre. Alternatively a list of Taxi's can be found here.